Welcome  to Rob Huberman's website dedicated to my grandfather's first cousin, renowned Polish violinist and humanitarian Bronislaw Huberman.
Bronislaw has been the family legend for as long as I can remember. On these pages you will find bits and pieces of his legacy that I've been collecting as well as  other details about his extraordinary life.
THE BIG NEWS is the feature-length documentary on Bronislaw's  life has been completed by Oscar nominated filmmaker Josh Aronson. "Orchestra of Exiles" chronicles Bronislaw's four-year struggle to found the Palestine Symphony in 1936.

  After Hitler came to power, Bronislaw was able to procure exit documents for seventy Jewish musicians fired from orchestras throughout Central Europe and take them to Palestine, to form the orchestra that would become the Israel Philharmonic. These musicians and their families were among the one thousand Jews Bronislaw saved from the Holocaust.
Although Bronislaw was a child prodigy and European violin sensation for decades, his story of humanity and righteousness is virtually unknown in the United States. Please click on the Site Directory (to the right) to view Bronislaw photos, memorabilia, music, articles and more.                Site Directory links ––––>
Learn more about the film project.
Watch a film clip from the promo on the story of Bronislaw & "Orchestra of Exiles"

            Bronislaw with Albert Einstein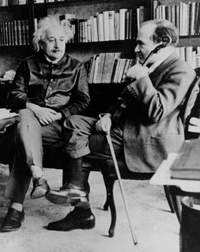 The young prodigy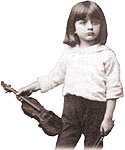 As a teenager